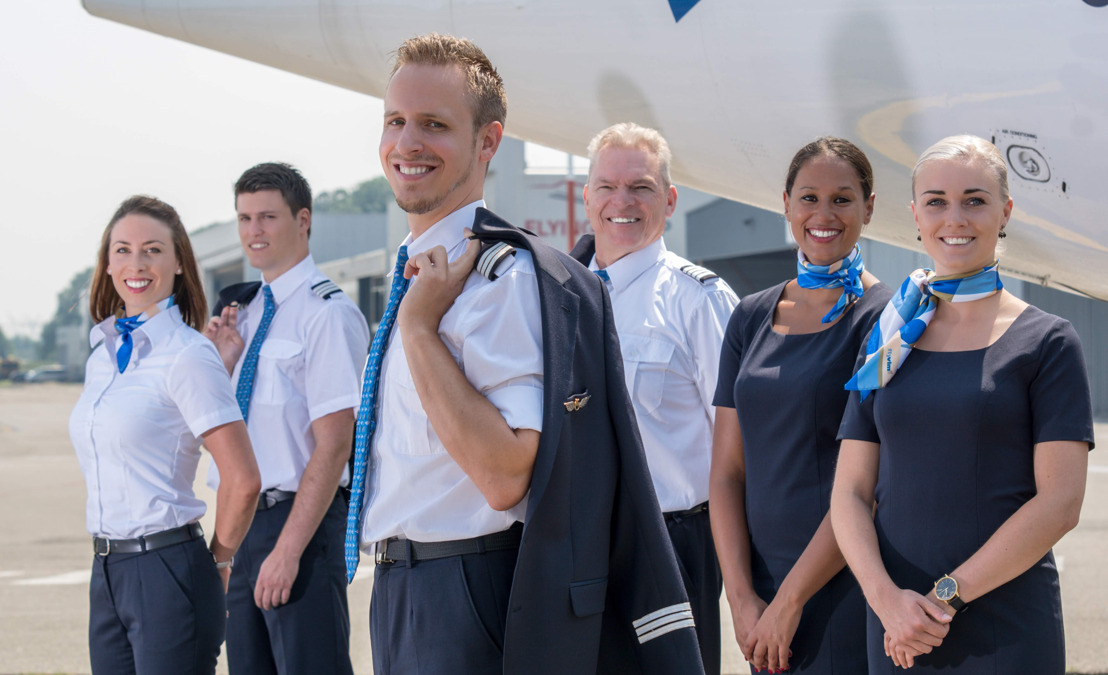 VLM reveals new uniforms for flight crew, cabin crew and ground staff
Thursday 5 July 2018 — VLM, the Antwerp-based airline, has introduced a new, fashionable uniform for its pilots and cabin crew. The uniform design with the matching tie and lady's scarf was done by the Belgian company The Outfit Factory.
The jackets, vests, pants, dresses and skirts are made from a dark blue fabric made of 54% polyester, 44% virgin wool and 2% elastane. Shirts and blouses are white. Light blue and gold accents were incorporated into the ties and scarves. The ladies' scarves are made of a polyester twill and for the ties a microfill polyester was chosen. The graphic staff of The Outfit Factory developed the striking design of the ties and scarves.
VLM chose for sustainable, comfortable fabrics. The uniforms are wrinkle free and the female flight attendants can choose from a skirt, dress or trousers.
Summer promotion at GBP/EUR 39
VLM offers scheduled flights from Antwerp to Aberdeen, Birmingham, Cologne-Bonn, London City Airport, Maribor, Munich, Rostock and Zurich. From 1st October 2018, two additional routes will be added to the VLM network: Manchester-Antwerp and Manchester-Ostend/Bruges.
Until Sunday 8 July 2018 a EUR/GBP 39 sales promotion is running for all existing routes (except on the Antwerp-London City, Antwerp-Rostock and Cologne/Bonn-Rostock routes) for journeys between 16 July and 31 August 2018 *.
At VLM Airlines, a drink and snack are included in the ticket price and every passenger is entitled to check in a baggage of up to 23 kg free of charge. At Antwerp Airport, passengers can check in up to 20 minutes before the scheduled departure time of their flight.
* One-way, incl. airport taxes. For conditions and details, see www.flyvlm.com
About The Outfit Factory
The Outfit Factory is located in Lier near Antwerp. The company employs 20 people and is specialised in contemporary work clothing and corporate fashion. The Outfit Factory has its own graphic department and printing studio where business clothing and promowear can be personalized with logos or corporate identity characteristics. The Outfit Factory already worked for, among others, aviation companies Flying Group and ASL, as well as Kellogg's, Procter & Gamble (industry), City of Antwerp (mobility and parking MPA) and the University Hospital of Brussels (work clothing). The company has also been supplying the extreme temperature clothing for several Antarctica expeditions for 2 years now.
www.outfitfactory.be
About VLM Airlines
VLM employs more than 100 aviation professionals. The fleet consists of 6 Fokker 50 turboprop aircraft.
The Belgian company SHS Antwerp Aviation N.V. is a subsidiary of the Dutch investment company SHS Aviation B.V., which is owned 60% by Dutch investors and 40% by Chinese investors. SHS Antwerp Aviation N.V. is developing airline activities under the trading name 'VLM'.
www.flyvlm.com