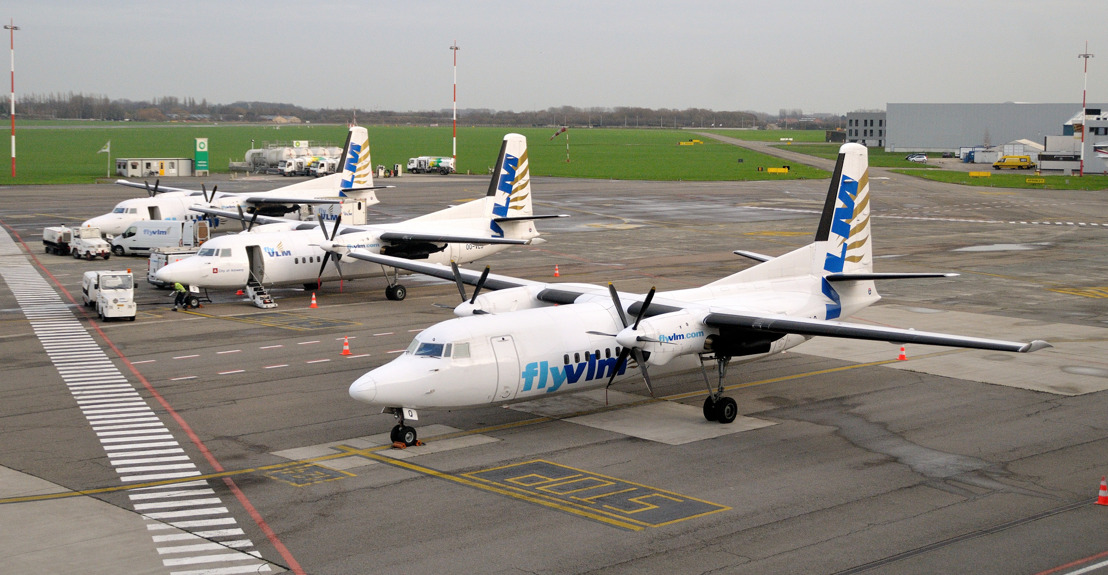 VLM Airlines will operate flights from Antwerp to Birmingham, Munich and Maribor
Monday 8 January 2018 — VLM Airlines will commence flights from Antwerp to Munich and Maribor (Slovenia) from 12th February. The airline will also fly from Antwerp to Birmingham from 26th March 2018. These new routes are to be added to the existing Antwerp-London City Airport route and the flights between Antwerp and Zurich, which will be operated from 22nd January. VLM Airlines is offering on all new routes one daily service in each direction with a Fokker 50 on weekdays. One-way fares are starting from EUR 59 (all taxes included). Seats can be booked via www.flyvlm.com from 10th January.
Karl Rickard, CEO of VLM Airlines stated: "VLM Airlines is very happy to connect Antwerp with Birmingham again. Antwerp is one of the largest seaports in Europe, the diamond capital of the world, the second largest petrochemical centre in the world. This thriving city is also known for its bold and diverse arts, fashion and culinary scene. A short ride takes you to other popular Belgian cities including Bruges, Ghent and Brussels as well as to Dutch cities such as Rotterdam and Eindhoven."
Seats can be booked from 10th January via the online booking facility on www.flyvlm.com or with a travel agency.
About VLM Airlines
VLM Airlines currently operates scheduled flights on the popular business route between Antwerp and London City Airport and will also fly on the routes Antwerp-Zurich (from 22nd January), Antwerp-Munich and Maribor-Munich (from 12th February). The route between Antwerp and Birmingham will be flown from 26th March 2018. The aircraft of VLM Airlines also perform charter, ACMI and private flights from Antwerp, Brussels and other European airports.
VLM Airlines employs more than 100 aviation professionals and has 3 air operator certificates: a Slovenian and a Belgian AOC for its Fokker 50 operations and a Belgian AOC for the A320 operations. The fleet consists of 6 Fokker 50 turboprop aircraft and 2 Airbus A320-200s, which are all registered in Belgium. The A320 has 180 passenger seats while the Fokker 50 can carry 50 passengers.
The Belgian company SHS Antwerp Aviation N.V. is a subsidiary of the Dutch investment company SHS Aviation B.V. SHS Aviation B.V. is owned 60% by Dutch investors and 40% by Chinese investors. The Slovenian company VLM Airlines d.d. is a subsidiary of SHS Antwerp Aviation. Both SHS Antwerp Aviation N.V. and VLM Airlines d.d. are developing airline activities under the common trading name 'VLM Airlines'.
www.flyvlm.com
New VLM route between Antwerp and Maribor from 12th February 2018
| | | | |
| --- | --- | --- | --- |
| Route | Departure | Arrival | Flight days* |
| Antwerp – Maribor** | 10:10 | 14:20 | 12345-- |
| Maribor – Antwerp** | 14:50 | 19:10 | 12345-- |
New VLM route between Antwerp and Munich from 12th February 2018
| | | | |
| --- | --- | --- | --- |
| Route | Departure | Arrival | Flight days* |
| Antwerp – Munich | 10:10 | 12:15 | 12345-- |
| Munich – Antwerp | 17:00 | 19:10 | 12345-- |
New VLM route between Maribor and Munich from 12th February 2018
| | | | |
| --- | --- | --- | --- |
| Route | Departure | Arrival | Flight days* |
| Munich – Maribor | 12:45 | 14:20 | 12345-- |
| Maribor – Munich | 14:50 | 16:30 | 12345-- |
* 1 = Monday, 2= Tuesday, 3 = Wednesday, 4 = Thursday, 5 = Friday, 6 = Saturday and 7 = Sunday.
** including a short stop-over in Munich
Yves PANNEELS Press Office VLM Airlines, (for press enquiries only)